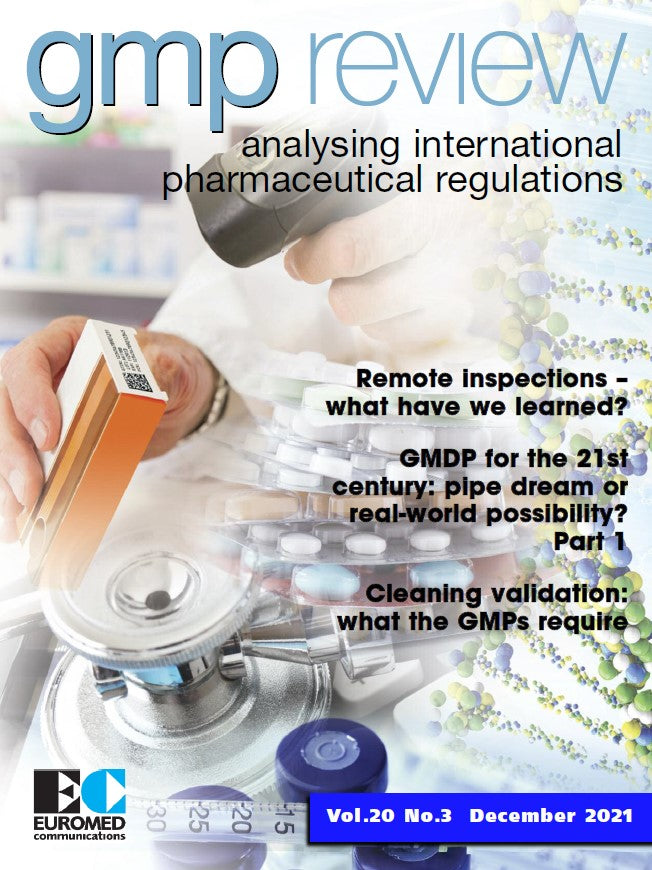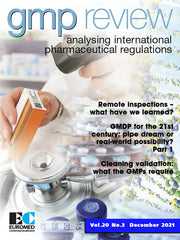 GMP Review Vol 20 No.3
Out of stock
GMP Review Vol 20 No.3 2021
The latest issue includes articles on:
Remote inspections – what have we learned?
- by Siegfried Schmitt and James Stumpff
In February 2020, travel ceased as the COVID-19 pandemic began to emerge. Since that time, we have come a long way with stay-at-home orders, social distancing, testing, tracing, and quarantine. Countries that implemented aggressive public health measures have had fewer cases and fewer deaths. The regulatory authorities also ceased to travel and were forced to utilise alternative mechanisms to assess industry compliance and review and approve new applications. This article discusses select industry experience with regulatory authorities utilising alternative mechanisms for assessing compliance as part of their review and approval of existing marketing authorisations or new applications.
GMDP for the 21st century: pipe dream or real-world possibility? Part 1 by Hedley Rees
GMDP, as most readers will know, stands for good manufacturing and distribution practice. Readers will also know it is the quality management system (QMS) regulatory authorities mandate for companies developing, manufacturing and distributing medicines and other pharmaceutical products. The 21st century has been with us for nearly 22 years now, so why am I writing about the chances of GMDP entering the 21st century? Isn't it already here? That's what we are about to discuss, recognising that we will be comparing the performance of pharmaceutical companies, and their supply chains, with today's best. We begin with a journey back in time to establish progress, or otherwise, in the 20th century.
Cleaning validation: what the GMPs require by Tim Sandle
Cleaning validation is of great importance for providing assurance that cross-contamination is minimised between equipment and products. However, often cleaning validation is called out for regulatory criticism. One way to avoid this is to ensure that good manufacturing practices (GMPs) have been followed. This can become confusing where different information is contained in different Guides for GMP from different regulators. This article assesses the primary Guidelines for GMPs (Europe, USA, Pharmaceutical Inspection Cooperation Scheme (PIC/S)) to provide the basis of a checklist for assessing new equipment and equipment requalification requirements.
Regulatory update UK, EU, USA & International
by Malcolm Holmes
Developments in the "regulation" of the pharmaceutical industry
You may also be interested in these publications