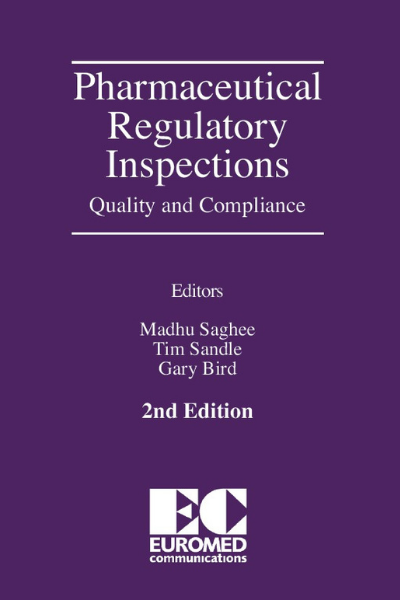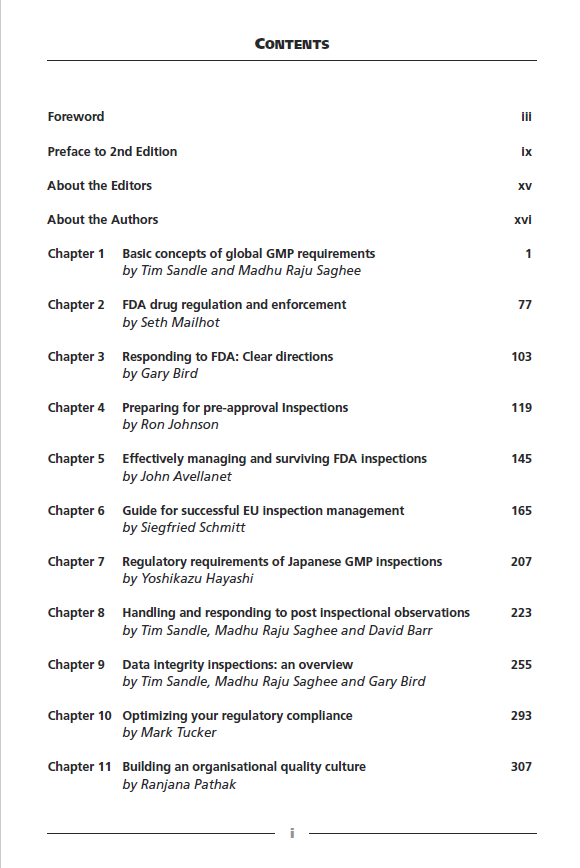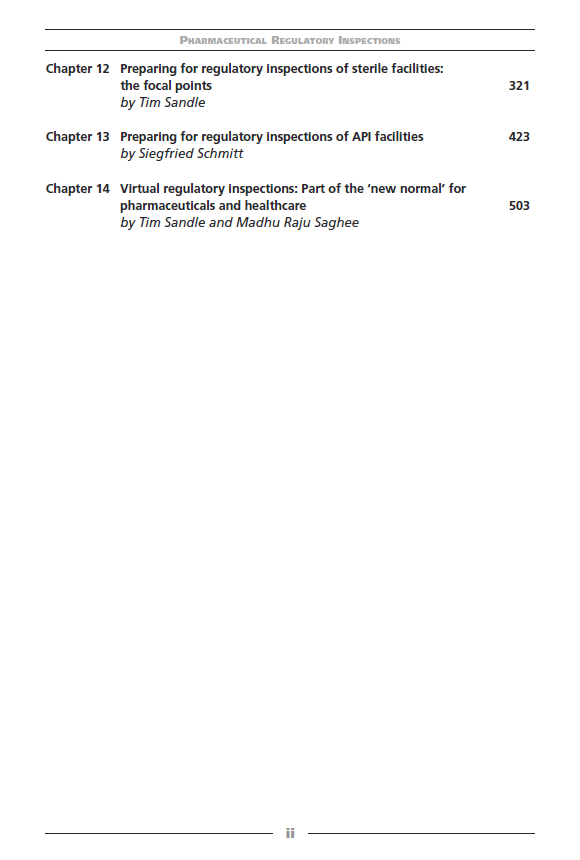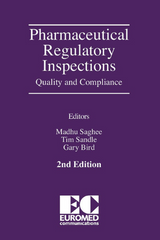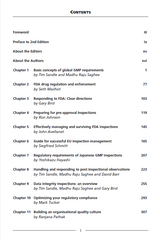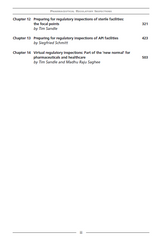 Pharmaceutical Regulatory Inspections - Guide to Quality and Compliance - 2nd edition
Out of stock
Edited by Madhu Saghee, Tim Sandle and Gary Bird
This book contains practical advice and insight to help different types of pharmaceutical organisations prepare for GMP inspections, understand key regulatory issues and review inspectorate trends and findings. The book compares inspections by the major regulatory agencies, the FDA, EU and Japan, as well as international inspections.
This is a unique book in which agency inspectors and seasoned industry experts express their views and provide advice and tips on how to successfully pass regulatory inspections.
In over 500 pages and 14 chapters this book, unlike any other, brings together a diverse range of experts to provide a focussed account of regulatory issues from pre-approval inspections and the inspection itself, to post-inspection and maintaining sustainable compliance. There is even a chapter on virtual regulatory inspections which takes into account the 'new normal' of the pandemic age.
If you wish to ensure that your company will successfully pass the increasingly important regulatory inspections process, then this book is an essential item for your bookshelves.
The complete list of chapters and authors is as follows:
Chapter 1:  Basic concepts of global GMP requirements by Tim Sandle and Madhu Raju Saghee
Chapter 2:  FDA drug regulation and enforcement by Seth Mailhot

Chapter 3:  Responding to FDA: Clear directions by Gary Bird
Chapter 4:  Preparing for pre-approval Inspections by Ron Johnson
Chapter 5:  Effectively managing and surviving FDA inspections by John Avellanet
Chapter 6:  Guide for successful EU inspection management by Siegfried Schmitt
Chapter 7:  Regulatory requirements of Japanese GMP inspections by Yoshikazu Hayashi
Chapter 8:  Handling and responding to post inspectional observations by Tim Sandle, Madhu Raju Saghee and David Barr
Chapter 9:  Data integrity inspections: an overview by Tim Sandle, Madhu Raju Saghee and Gary Bird
Chapter 10:  Optimizing your regulatory compliance by Mark Tucker
Chapter 11:  Building an organisational quality culture by Ranjana Pathak
Chapter 12:  Preparing for regulatory inspections of sterile facilities: the focal points by Tim Sandle
Chapter 13:  Preparing for regulatory inspections of API facilities by Siegfried Schmitt
Chapter 14:  Virtual regulatory inspections: Part of the 'new normal' for pharmaceuticals and healthcare by Tim Sandle and Madhu Raju Saghee
You may also be interested in these publications